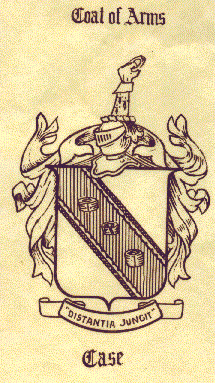 Historiography
The Case Coat of Arms illustrated above was drawn by an heraldic artist from information officially recorded in ancient heraldic archives. Documentation for the Case Coat of Arms design can be found in Burke's General Armory. Heraldic artists of old developed their own unique language to describe an individual Coat of Arms. In their language, the Arms (shield) is as follows:

"Ar. on a bend engr. gu. cotised sa.
three round buckles or.'
Above the shield and helmet is the Crest which is described as:
"A cubit arm habited erm. cuff ar., holding
in the hand ppr. a round buckle or."

When translated the blazon also describes the original colors of the Case Arms and Crest as it appeared centuries ago. Family mottos are believed to have orininated as battle cries in medieval times. The Motto recorded with this Case Coat of Arms:

"DISTANTIA JUNGIT"

Individual surnames originated for the purpose of more specific identification. The four primary sources for second names were: occupation, location, father's name, or personal characteristics. The surname Case appears to be locational in origin, and is believed to be associated with the French meaning, "from the Village of Case (county house)". Different spellings of the same original surname are a common occurrence. Dictionaries of surnames indicate probable spelling variations of Case to be Casse. Although bearers of the old and distinguished Case name comprise a small fraction of the population there are a number who have established for it a significant place in history. They include:

JOHANNES CASE, recorded in P. T. Yorks book of 'Poll Taxes in the year 1379.

LEONARD CASE (1786-1864) American land agent and lawyer, who became Clerk of Courts in 1806, and Clerk of the Supreme Court in 1807. He was Attorney of the Connecticut Land Company.

JEROME INCREASE CASE (1818-1891) American manufacturer, who began his operations in a small rented shop in Racine; the business grew to become the J. I. Case Company in the year of 1880, and later the J. I. Case Threshing Company. He also established the First National Bank of Burlington, Wisconsin.

ANNA CASE (b.1889) American operatic soprano, who made her debut with the Metropolitan Opera Company and sang on the concert stage in the United States and Canada.

EVERETT NEEDHAM CASE (b.1901) American educator, who became President of Colgate University in the state of New Jersey.

No genealogical representation is intended or implied by this report and it does not represent individual lineage or family tree.